Candace Palfreeman with Candace Photography radiates joy inside and out, and as an Atlanta Wedding Planner that is truly refreshing. She is a amazing vendor partner of ours, and we couldn't wait to collaborate on this post. Without further ado here are her tips from behind the lens on feeling comfortable during your engagement session.
From Candace
Getting to know my clients helps to create an amazing experience, so I'd love to tell you a little about myself, so you feel the same. My name is Candace Palfreeman, owner of Candace Photography. I am a fine art film portrait and wedding photographer based in Atlanta, Georgia, but I am up for an adventure wherever a heart-warming story is being told. I value relationships and family in my life because I am living my own love story. I have an amazing husband whom I have been married to for 15 years. I also have four handsome and wildly hilarious boys who make me a better person daily. I am incredibly honored to serve couples by telling their stories, not only on their wedding days, but the time leading up to that day. I love drawing inspiration from each of my couples and using an art-centered flare to tell a story that is real and meaningful.
Here are a few tips that I have discovered over the years to ensure a smooth and comfortable experience for your engagement session.
1. Love Your Person & Trust Your Photographer To Do The Rest
If you take away one thing from this post let this be it! It is completely normal to feel awkward and nervous when you prepare for your engagements, but I tell my couples before we start each engagement session… "All you have to worry about during this time is loving on that person by your side and being yourself." As your photographer, I will help you through the rest.
Come with an adventurous attitude, some silly jokes in your back pocket to make your best friend laugh and enjoy the time you get to spend together. Be yourself and trust me as your photographer to capture the authentic moments you will cherish. This, more than anything else, will tell your individual love story.
2. Set The Stage
I love when couples pick a location that is special or sentimental to them in some way. Before heading to your neighborhood park for engagement photos, think about what you enjoy as a couple and what places reflect that. Did you spend your summers at a family beach house? Did you get engaged at a beautiful mountain villa? Every Saturday, do you graze the farmers market and have coffee at a local café? Choosing a setting that puts your love at the very center helps make your pictures ring true to you and bring and an elevated feel to your wedding day.
3. Put Thought Into Your Wardrobe
Though you want these pictures to seem like you, and I love yoga pants and a white t-shirt as much as the next girl, you are going to want these photos to be incredibly classy and elegant. These photos will be what you use to prepare your friends and family for your wedding…so make sure that your engagement session vibe matches the one you have planned for your wedding. Basically, you're never going to be too dressy for your engagement session. I suggest an elevated formal look for my couples and then a fun dressy date night look. As a photographer and a shopaholic, I really enjoy when my couples use me as a resource. I am always happy to pull together some of my favorite pieces and places to shop to help make the process as simple as possible. Get your hair and makeup done professionally. This is a special day and worth a little extra pampering. Also, we're going to put a lot of focus on your hands and your beautiful new ring, so it helps if your nails are done and your ring is clean.
4. Prepare Ahead Of Time
Booking your session on a weekday helps to ensure a more private and secluded experience. Set aside a day to relax and prepare. Not only does this give you plenty of time for photos without feeling rushed but starting your day in this mindset helps you feel connected and romantic as you head into the photo shoot.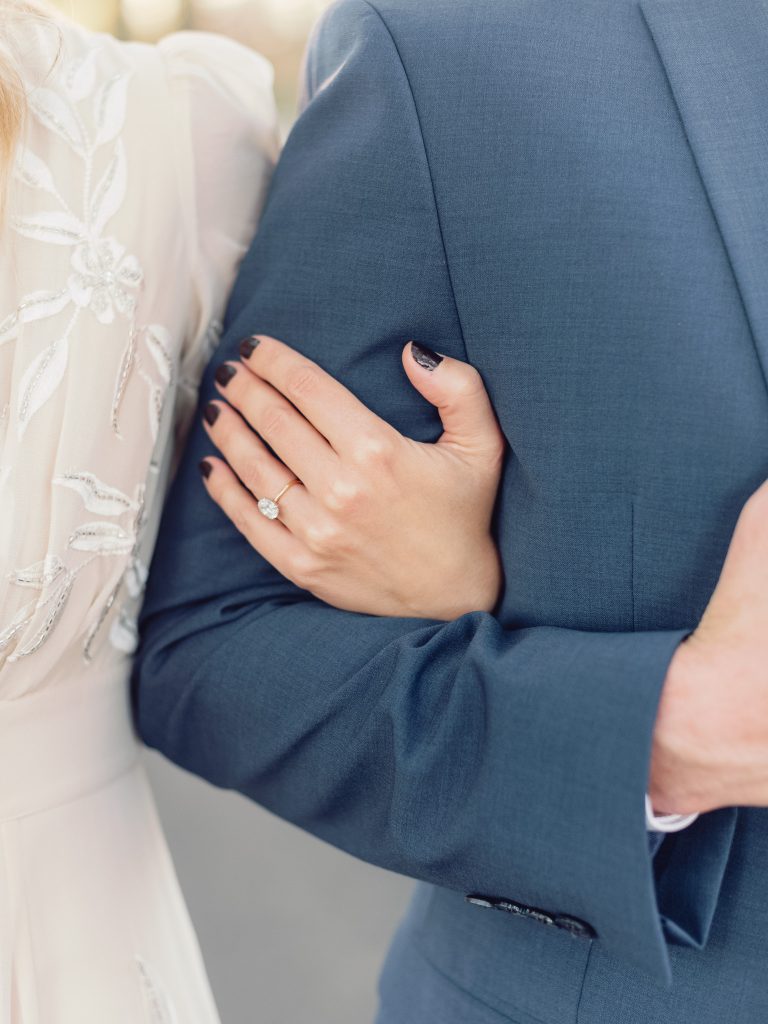 5. Make It A Date Night
If you're going to get dressed up, make a night of it. After your session, you and your fiancé might consider heading out to dinner or drinks.
Our hope is that these ideas have helped put you at ease and have you looking forward to your upcoming engagement session. Thank you Candace Photography for sharing your know-how with our readers!