She needs no introduction, but Laura Watson is a destination wedding photographer who we just adore here at Wright & Co. She believes that photographs should be a balance of curated imagery and authentic moments of connection. Her work is refined, warm, and emotive, ensuring the all-too-fleeting moments of her couples' wedding days will endure throughout generations. She lives in Newnan, Georgia with her husband, Garrett, and their two miniature dachshunds, Piper and Guinness. 
Your engagement session is one of the first fun and exciting action item you get to make in your wedding planning journey. Hence the reason why we have Laura Watson jumping in to talk a bit about how to make the most of it. While planning the wedding day itself is so much fun, in truth, it can feel a lot like planning with little reward until the day arrives. Your engagement session, however, is the first moment you get to celebrate your love story the way only engaged couples do. 
From Laura Watson
When a couple first invites me onto their wedding vendor team as their photographer, we immediately get to know each other. This comes from planning their engagement session. At the beginning of my planning process, I ask all of my couples the same questions so that I can get to know them better while we plan a session that's intentional to their love story. And I believe we can craft thoughtful and emotive imagery by focusing on three aspects of the session: 
1.What location pairs best with your love story?
I always help my couples choose a location that sets them at ease and fits their wedding style. After all, the engagement session is an introduction to their wedding experience. For example, one of my couples loves to hike each weekend with their dog, Charles. They're planning a wedding at their family's property in North Georgia. They've hiked all over, even crossing state lines to seek out new destinations and spice things up on long weekends. 
For their engagement session, I suggested my favorite unique hiking ground in Georgia – Arabia Mountain. They loved it! We enjoyed an afternoon of taking photographs in a spot that drew out their personalities, and meant the most to them. We finished at sunset, with a pop of champagne as we watched the sun fall behind the horizon line. Charles loved it, too! 
2.What do you love doing together?
Anyone can take portraits in a pretty garden surrounded by good light. What my couples want is a custom experience where they can truly feel like themselves. I love integrating a little date night action into my couple's engagement sessions to give them something fun to look forward to! 
I'm currently in the process of planning a session at a local historic home, where a couple of mine is recreating their first date when they went quail hunting.  This activity brought them together when they first met. They immediately clicked over their shared passion. I'm excited to produce a recreation of these memories that will bring to life the start of their love story!
3. I help them look their best. 
One of the biggest fears for my couples is the age old question…but what do I wear? I carefully help my couples plan their outfits so that they're both comfortable, looking their best, and dressed in a timeless fashion that will remain true 5, 10, 15 years from now. We pull together a mood board of inspiration and then find strategic looks. This makes them feel their best in front of the camera. 
This may seem like an obvious thing to do when planning your session, but feeling good in front of the camera makes a difference. My couples know that the experience of being together in front of the lens directly impacts how they feel about their final images. I strive to create an environment where they can feel relaxed and in love.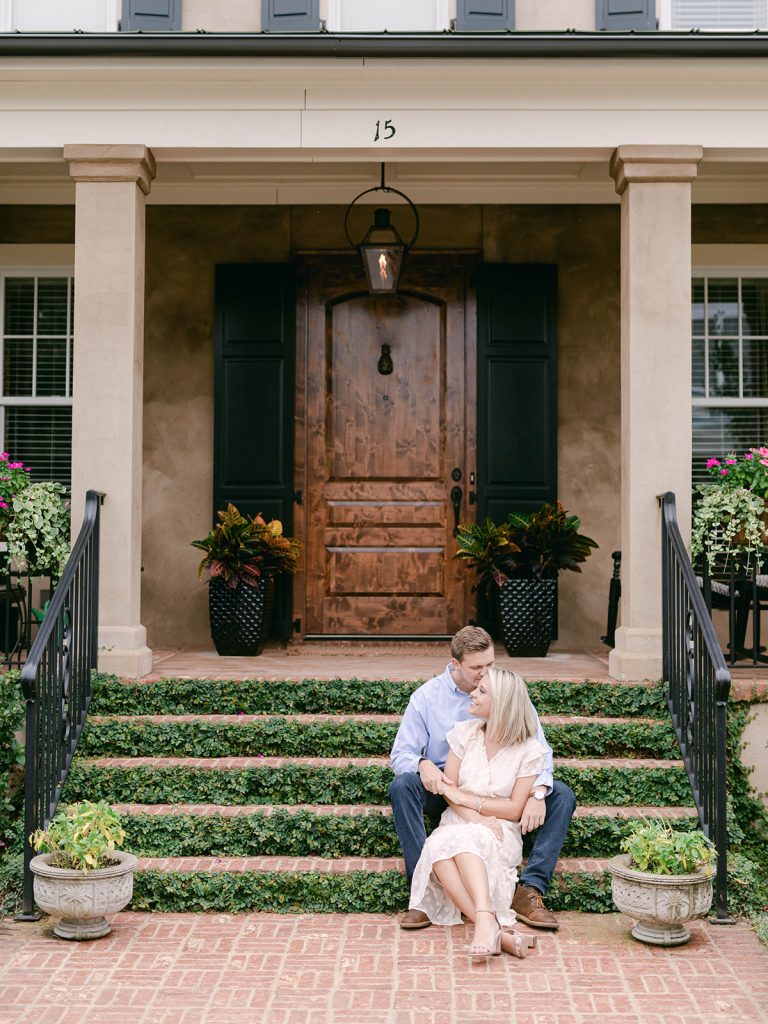 Laura Watson's Top Engagement Session Locations
I'm a big believer in choosing a destination that fits your love story. But I still have my tried and true favorite locations that many of my couples love. These locations are beautiful in their own right, but they also allow for my couples to customize any aspect of the location to pair with their personalities and make it their own. 
Make it a Destination. 
What better excuse to enjoy a romantic weekend together amid wedding planning than to choose a destination engagement session? These are perfect for couples who loved the idea of a destination wedding, but due to logistical or familial reasons, decided to keep their celebrations local. I've photographed destination engagement sessions in Colorado, Washington, Nevada and Utah. All were lovely excursions and produced some of my couples' favorite memories together!
But my favorite weekend getaways for my Atlanta couples are on the coast in Savannah, Charleston or Hilton Head. Each of these destinations provides coastal scenery that you'll never find in the city, as well as romantic restaurants and boutique hotels to allow you to be together on a deeper level.  If you're a couple who loves to travel together, then this is the perfect option for you! 
Laura Watson's  favorite places in these cities: 
Savannah, Georgia – Wormsloe Historic Site, Forsythe Park, Jones Street, and any of the squares.
Charleston, South Carolina – Rainbow Row, Chalmers Street
Hilton Head Island – Sea Pines Resort (especially the old oak trees near Six Oaks Cemetery) and Coligny Beach
Arabia Mountain & Vaughters Meadow
My husband and I chose this enchanting location for our own engagement for several reasons. It's the perfect location for unique portraits that feed into your wanderlust without driving more than 30 minutes from the city. It also boasts the most romantic sunset views…with more privacy. If you're not a fan of having your portrait taken in a crowd of people, Arabia Mountain is a great atmosphere for romantic portraits. I love letting my couples end their session here with a bottle of wine (or bourbon, champagne…) and watch the sunset fall over the horizon.
Piedmont Park
If you've fallen in love with Atlanta and its iconic skyline, Piedmont Park is the perfect setting for a classic, timeless city look with plenty of greenery and multiple skyline views. The architecture of the park has plenty of variety, and my Atlanta couples love to walk around together and enjoy the vibe of the city. 
A little Piedmont Park tip: If you love this location, consider a sunrise session instead of sunset. The park is very crowded on beautiful afternoons. Having your portrait taken in a crowd can feel intimidating. Piedmont Park at sunrise is just as lovely, if not more so, than at sunset. Plus, you feel like the park is meant for you!
Atlanta History Center & The Swan House
The Swan House is arguably the gem of Atlanta. It's grounds feature historic architecture, tailored gardens and a wide, grassy lawn with a view of the cascading fountain at the back of the home. I recommend the Swan House to my couples who love historical romance, European architecture and chic fashion. The Swan House is perfect for the couple who wants to bring a formal, elevated look to their engagement photos, and is a great companion to a stylish wedding venue like The Ritz Carlton, St. Regis, or even a destination wedding in Charleston.
Your wedding venue
There are plenty of gorgeous wedding venues in the Atlanta area that offer their grounds to couples for an engagement session. Among my favorite venues are Summerour Studio, Montaluce Winery, Hills & Dales Estate, or even your family home. If you're planning a tented wedding on your family's property, consider planning your engagement session there as well, inviting more legacy into your love story!
Above all, I'll leave you with this: Choose a location that means something to you. Whether you met traveling abroad in the south of France or at brunch one Atlanta Sunday morning, your engagement session is an extension of your love story. It sets that tone for your wedding day and allows you to bond with each other even more. Enjoy planning it together!
Thank you so much Laura Watson for this insightful post and for sharing your heart with our followers!
Photos By: Laura Watson