I am genuinely so excited to have Jessica Blass, the eyes and heart behind Jessica Gold Photography as a contributor to our blog today. She is one of our preferred vendors serving couples in the greater Atlanta area as well as the southeast. Her style is a balance of classic and creative imagery, highlighting film as her medium of choice. She works with each couple to capture their story genuinely and honestly. Delivering beautiful photos is the minimum of what she does, her ultimate goal is to make each of her couples feel calm and confident in front of the camera while giving them the space to fully enjoy their wedding. She is passionate about taking charge of the photo process so that all of her couples have to worry about is celebrating their new marriage. Her motto is "You pop the champagne, i'll click the shutter", which we just love. Here are some tips from Jessica to prepare for your engagement session.
Scheduling Your Engagement Session
First, figure out if you need your pictures done by a certain date! Then, work backwards to schedule your session. For example, are you sending Save the Dates? Do you want to set up a wedding website? Are you anticipating a holiday or special occasion you need your photos for? Figure out the latest you will need your session completed. Then, communicate this to your photographer. Every photographer has a different creative process and timeline that they follow for photographing, editing, and delivering your session. For my couples, I tell them to schedule their photos no less than 60 days before they need them!
In addition, be mindful of the season when you take your pictures! If you love fall foliage and colors, then October and November are great months for you to take pictures. But, if you would rather have a green, lush background full of flowers, you'd probably be better suited for spring. Also, be mindful of the weather and temperature! While summer can be a great time for photos, taking pictures in warm weather can be uncomfortable. Consider a morning session if it might be a hot day for you! In general, I don't recommend taking pictures from December through mid-March, as most locations look dull and lifeless. If you must take your photos during these months, consider a location that is architecture heavy and not dependent on landscaping.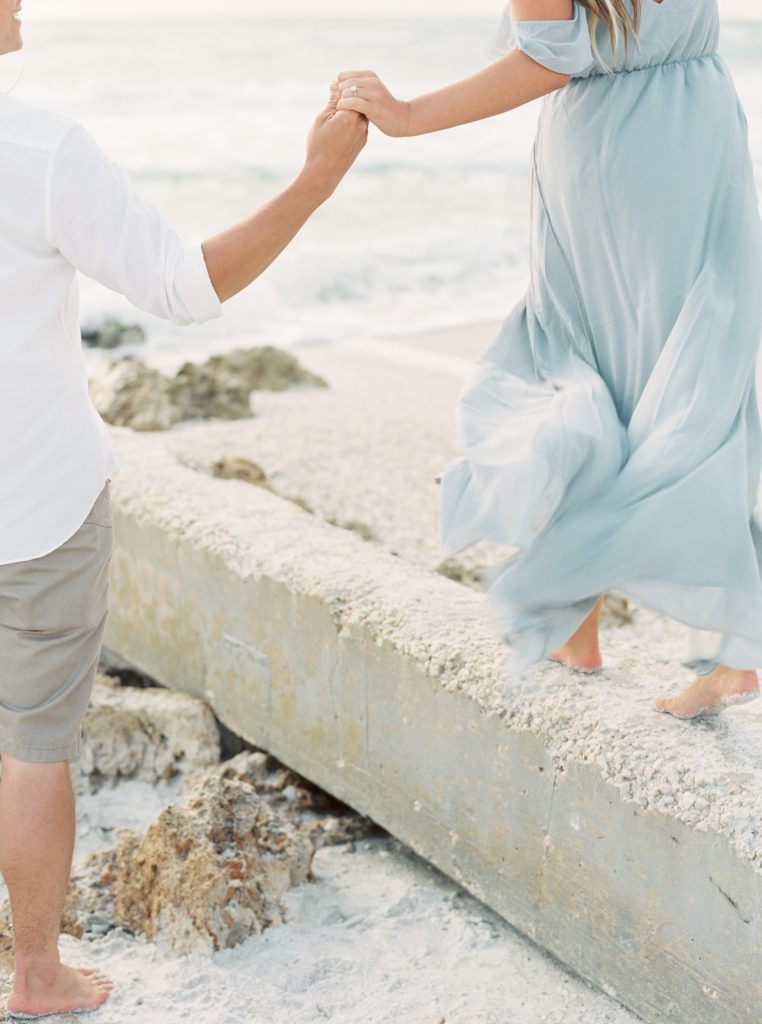 Location
Once we know when we are photographing your session, next is choosing your location. Try and picture your session and see what comes to mind. Are you dreaming of a nature location with tall grass and lush trees? Are you walking the historic streets of Charleston? Are you accompanied by grand architecture, or snuggled up in your home with a glass of wine? I encourage you to reflect on what aesthetic you're dreaming of, then offering this vision to your photographer and getting their ideas and opinions! For my style and what I do best, lighting is key. I always try and keep my couple's ideas in mind while prioritizing a spot that provides optimal light for photos. Also, consider if your perfect location is a public location or a spot that you may have to rent. It might be worth it to invest in a private venue if it aligns with your vision!
Outfits & Styling
This is your engagement session after all, so don't be afraid to dress up! This is a fun snapshot of your journey towards your wedding, so treat it like a celebration! In my opinion, two outfits is the perfect number. Remember that even as you choose refined, polished outfits, make sure you feel comfortable. If you feel uncomfortable in what you're wearing, it's going to show in photos. As for colors, I always encourage my couples to choose soft colors and neutral patterns.
Communicate Your Vision
If you are dreaming of anything specific for your session, I encourage you to communicate this with your photographer! Your photographer is the creative expert, but that doesn't mean you can't collaborate with them when planning for your session. If there was anything specific you had in mind, feel free to talk to your photographer about this! I always appreciate when my couples communicate anything they are dreaming of ahead of time. This way, I can keep these details in mind when planning their session and bringing their vision to life. (I'd rather a couple tell me their ideas ahead of time, rather than putting me on the spot in the middle of a session). Ultimately, you should trust your photographer and how they will artistically direct the session. (The more creative freedom you give your vendors, the better!) But know that there is space for you to bring your vision to the table.
Having Realistic Expectations, Preparing Your Nerves
My biggest piece of advice when planning your engagement session: have realistic expectations about how you are going to feel in front of the camera. For most couples, this is the first time they've ever hired a professional photographer in their adult life. While everyone wants beautiful photos, most people feel very awkward with a camera pointed at them. Know that it is completely normal to walk into your session with nerves! Have the expectation for yourself that it might take a while before you feel at ease. This is why it's so crucial to hire a photographer that you feel comfortable with. Let your photographer guide you and lead the session, but know that it is okay if you still feel awkward in front of the camera. I encourage you to lean into the experience even if it feels unnatural. The more you embrace what your photographer asks you to do, the better the result!
Setting Up Your Day For Success
Try and set up your entire day – and the time surrounding your session – for success. Do you need to leave work early that day? Are there any personal affairs you need to put in order so you're not rushing to or from your session? I promise, if you are stressed or distracted during your session, it's going to show in photos. I also encourage you to eat before your session, or have dinner taken care of following your session! Taking care of little details like this can go a long way to ensure that you are present and getting the full experience while taking your photos.
We hope this helps you on your engagement journey. Thank you so much Jessica for sharing your wisdom with us!